A Celebration of Ella Fitzgerald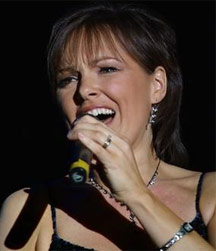 Sunday 25th September 2011, 3pm
St Andrew's Hall, St Andrew's Plain
Norwich NR3 1AU

Conductor - Geoff Davidson
Soloist - Helen Welch
To include these superb classics and many more:
Someone to Watch Over Me
I Got Rhythm
Embraceable You
Love Walked In
Fascinating Rhythm
Press Release - Strike up the band, Ella Style
Norwich Pops Orchestra goes from strength to strength by finally pinning down American Singing Star Helen Welch who brings her stunning tribute to the one and only Ella Fitzgerald to St. Andrew's Hall on September 25th (at 3pm). The sublime, unsurpassable songs and the moving, uplifting story are consummately delivered by Norwich's very own girl singer who became an American citizen in 2009. Helen first appeared on television at the age of three and later, after starring in several productions by Norfolk and Norwich Operatic Society, she entered a competition for a role in "Smoky Joe's Cafe". Out of 800 hopefuls the role was hers and she found herself on New York's Broadway receiving excellent reviews. Following this and after winning the Irish International Song contest,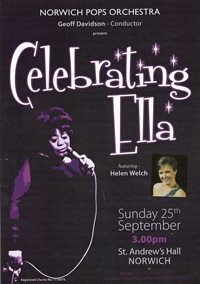 Helen began to forge her career in concert singing, appearing with such illustrious bodies as the Buffalo Symphony, the New York Jazz Orchestra, Cleveland Pops orchestra, Columbia Jazz orchestra, Glen Miller Europe and the BBC Big Band. Now living in Ohio where her busy career continues to flourish non-stop, Helen is justly famous and in huge demand for her fabulous programmes including songs by Peggy Lee and Sarah Vaughan and also Elton John, Sting and Randy Newman.
Recently Helen was incredibly honoured to be allowed to plunder Ella Fitzgerald's library of songs and she will be bringing all her specially selected arrangements with her for a one-off spectacular that really is not to be missed. Helen's special brand of humour mixed with poignant narrative will include such favourite songs as "Someone to watch over me", "You make me feel so young", "Love walked in", "Fascinating rhythm" and some other wonderful medleys while the wonderful Norwich Pops Orchestra conducted by Geoff Davidson (he of the really not very good jokes) fly into action with the Overture to "Girl Crazy" and some other medleys by Irving Berlin.
Norwich has produced some wonderful singers in the past (Pops fans will remember the New Year's Day concert of 2010 when Elizabeth Watts, now a world name, brought the house down) and Helen Welch is set to dazzle with her own brand of music and pzazz. It's a "must see" show and tickets are available now at Prelude Records, St. Giles Street, Norwich 01603 628319. Best hurry!

< back to past concerts