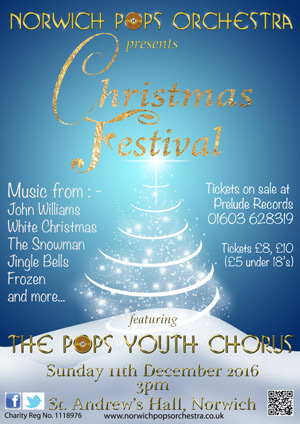 Christmas Festival
Sunday 11th December 2016 - 3pm

St Andrew's Hall
St Andrew's Street
Norwich NR3 1AU
What a festive collection of Christmas music from film, television and theatre this was!
Featured were well-known tunes such as Howard Blake's haunting 'Walking in the Air' from The Snowman, popular melodies from Disney's hit animation, Frozen along with great orchestral music from Nigel Hesse, Leroy Anderson, Irving Berlin and John Williams.
We were particularly proud to welcome as part of our Christmas concert,The Pops Youth Chorus. They are a collective of students from local Norfolk schools, Flegg High School, City of Norwich School and Notre Dame High School.
Those in attendance witnessed the youth singers present a WORLD PREMIERE of 'Horizons' a work written by two music students at Notre Dame High School.
Festive Programme
Christmas Festival - Leroy Anderson
Sleigh Ride - Leroy Anderson
Walking in the Air from 'The Snowman' - Howard Blake
Selections from Disney's 'Frozen'
Winter Wonderland Medley - Arr. Marty Gold
Medley from students of Notre Dame High School
A Christmas Overture - Nigel Hesse
The Christmas Song - Torme & Wells
Three Holiday Songs from 'Home Alone' - John Williams
A Most Wonderful Christmas Medley
White Christmas - Irving Berlin
Christmas Rocks at the Pops
You can see our rehearsal photographs for our Christmas Festival concert on our Flickr page »
< back to past concerts