The Magic of the Musical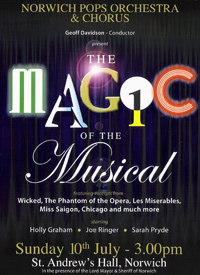 This concert featured music from some of the greatest modern musicals composed in the last 50 years including substantial excerpts from Les Miserables, Chicago, Miss Saigon and Wicked. The wonderful Norwich Pops Orchestra, the regions leading exponent of concerts featuring Musicals and Light Music, will featured a line-up of all the regions finest musicians, including ex-members of the BBC Big Band, Dragoon Guards and one member who played in the original productions of Les Miserables and Miss Saigon for many years in the West End. The Pops Orchestra was directed as always by its inimitable conductor - Geoff Davidson - who after a successful career as a singer with such eminent ensembles as the Monteverdi Choir and BBC Singers, has established himself as one of the most versatile and charismatic conductors in the area.

Joining the Pops Orchestra for this Musical Extravaganza were three of Norfolk's leading and most scintillating performers. Holly Graham triumphantly appeared with the Orchestra back in 2010 for their Rodgers & Hammerstein Tribute and we are absolutely delighted she has agreed to join us again on stage for this tribute to the modern musical. In addition to Holly, we were also delighted to welcome for the first time - Joe Ringer - who has become recognised over the last 5 years as one of the most compelling and thrilling male voices this region has produced for many years. We were also delighted to be joined again by the sensational Sarah Pryde, who many of you will remember as the leading lady in the Norfolk & Norwich Operatic Society for many years. She now appears professionally all over Europe and the UK, and we are very fortunate that she was able to join us for this gala concert.

This concert was presented as part of the Lord Mayor's weekend of celebration.
Conductor - Geoff Davidson
Soloists - Holly Graham, Sarah Pryde & Joe Ringer
Sunday 10th July 2011, 3pm, St Andrew's Hall, Norwich


< back to past concerts