Music for a Summer Evening - Outdoor Concert
Saturday 6th July 2013 - How Hill Trust, Ludham NR29 5PG.


Programme
Bernard Barrell - East Anglian Holiday Overture
John Williams - Superman March
John Williams - Star Wars Theme
John Williams - Music from Harry Potter
Bizet - Overture & Habanera from 'Carmen'
Vaughan Williams - English Folk Song Suite
J. Strauss II - Tritsch Tratsch Polka
Coates - Dambusters March
Elgar - Cockaigne Overture
Mozart - Overture - The Marriage of Figaro
Elgar - Capriccio Espagnol
Elgar - Chanson de Matin
Smetana - Dance of the Comedians
Butterworth - Banks of Green Willow

www.howhilltrust.org.uk

Soprano soloist - Jayne May-Sysum
Jayne May-Sysum graduated from the Welsh College of Music and Drama in Cardiff and then went on to study with the world renowned soprano, April Cantelo. Now living in North Norfolk, Jayne enjoys a full and rewarding career and her love of communicating with audiences has won her plaudits wherever she has performed. Recently, she enjoyed success in the BBC Radio 2 Kiri Prize and she has appeared in major concert venues including St John's, Smith Square, St Martin-in-the-Fields, Symphony Hall, Birmingham and Gloucester Cathedral.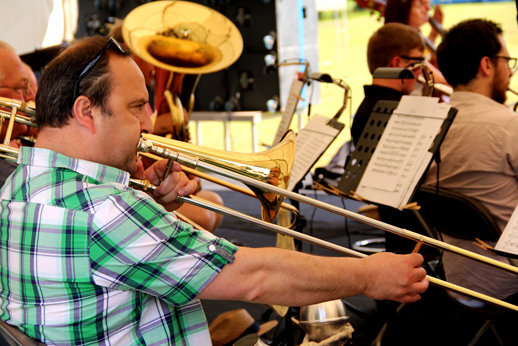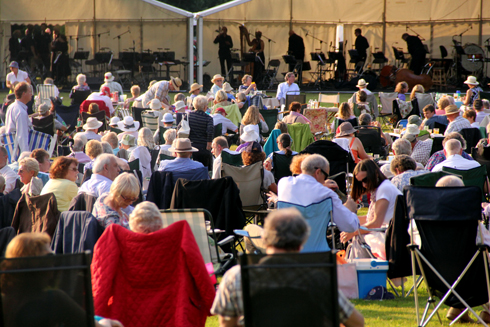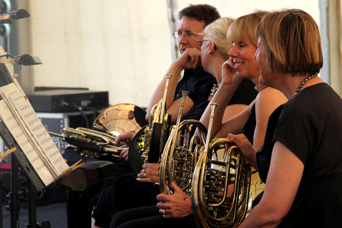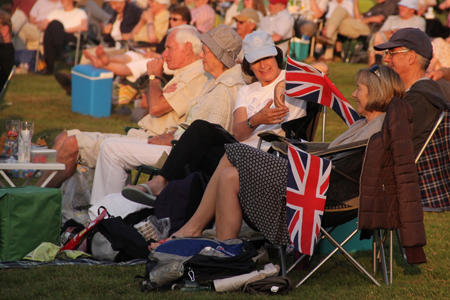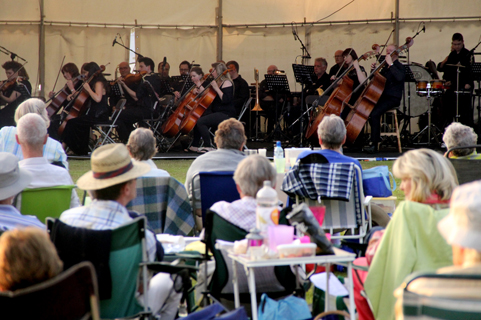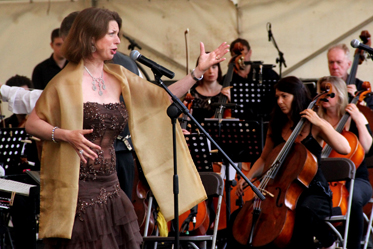 What the press had to say...
Sunshine brings revellers to concert first at How Hill
Nearly 1,000 revellers basked in the evening sunshine at the first outdoor concert to be held in the magnificent setting of How Hill, near Ludham.
Music for a Summer Evening drew concert goers from all over Norfolk and beyond for a programme of light classical music performed by the 60-strong Norwich Pops Orchestra supported by north Norfolk soprano Jayne May-Sysum.
Revellers began arriving at the environmental study centre from 4.30pm on Saturday to enjoy the gardens of the imposing century-old mansion and to picnic on the lawns.
The concert was jointly organised by Ludham Parochial Church Council and the trustees of How Hill.
It is thought more than £6,000 will have been raised to support How Hill's environmental work with young people and to fund church improvements, including the addition of a kitchen and toilets.
Organiser Ken Grapes, who had long seen How Hill as the perfect venue with its idyllic views over the River Ant and surrounding marshland, said: "Our first concert must be regarded as a great success, helped by the sponsorship of Norfolk Homes, arrangements going like clockwork and our most amazing luck with the weather. I have never seen so many people enjoying a picnic, bringing along tables and chairs with their food and wine."
He said they had invested in a really good sound system which worked perfectly – even allowing boating holidaymakers to moor up down at the staithe and enjoy the concert.
Lt Col Grapes, who is chairman of the PCC, said the date for a repeat concert had already been set for Saturday, July 5 next year.
They would stick to what had been a successful recipe, although they were also looking at possible ways to expand the event.
Eastern Daily Press, Monday July 8th 2013 - Stephen Pullinger

< back to past concerts